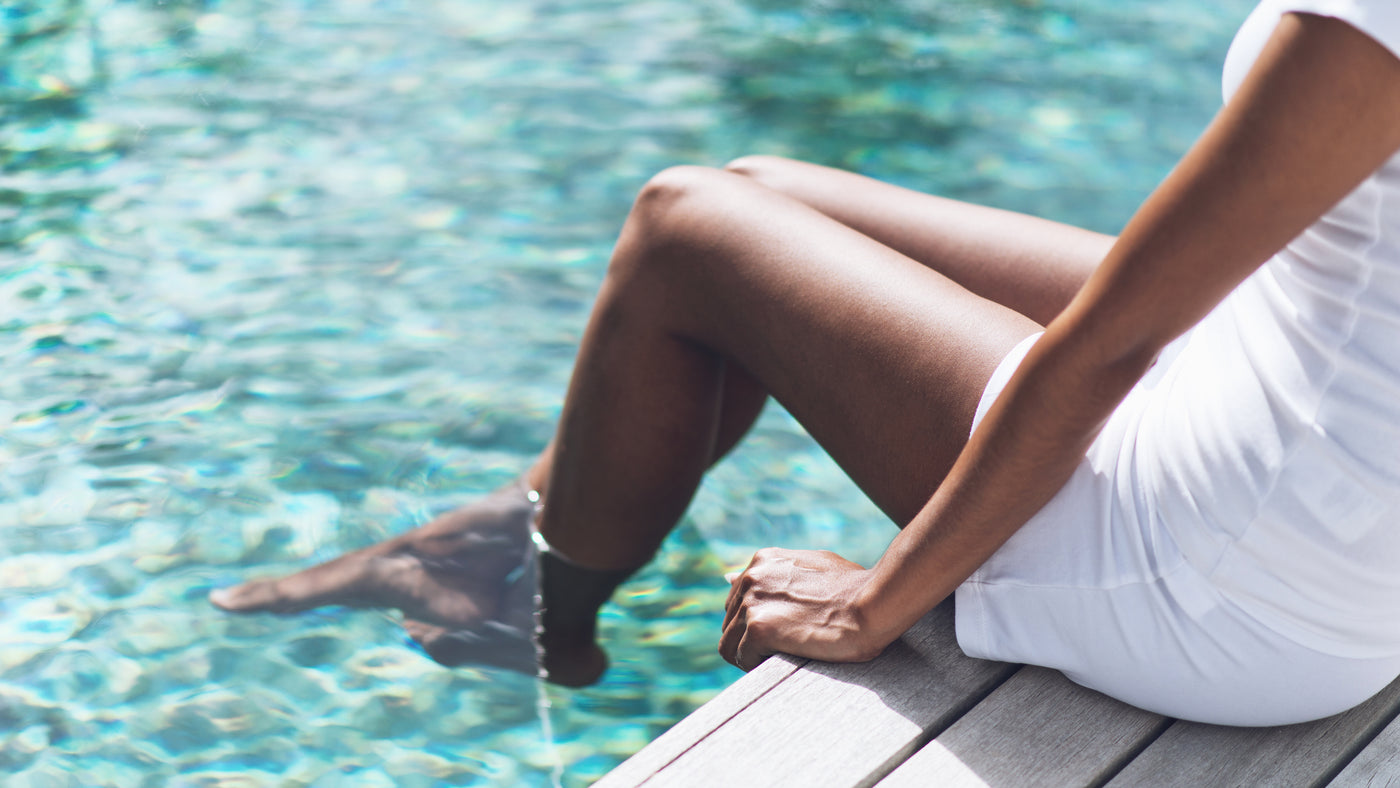 The Summer Hot Flash Survival Kit
You never know when a normal summer day is going to turn into your own personal scorcher of a heat wave, so you might as well be prepared. Here's what we're carrying in our bags this season so we can cool down and pull ourselves back together no matter where we are when a hot flash hits.
Attach this little gizmo to your phone and you've got your own little automatic cooling machine, whether you're on the go or at your desk.
---
The hot, humid climate you live in with hot flashes is kind of like summer in an Asian country. So we're doing what women there have done for centuries—carrying pouches of little papers that absorb, freshen and just smell so, so good. There are a bunch out there to choose from. Tatcha makes a particularly pretty one, made with natural abaca leaf and flecked with gold. 
---
Hair Elastics
If your hair is on the longer side, put it up when heat starts rising through your upper body. You can't have too many of these (have you noticed how they mysteriously disappear, like socks in the dryer?) Carry them in your bag, rather than on your wrist, where a hot flash can put them out of service. 
---
A little can of spritz goes a long way to restore your cool in the midst of a sweat session. New ones are launching all the time, but we still love the iconic Caudalie Grape Water, for its gentle, soothing sensation. It's made with 100% organic plant water extracted from grapes, and French women swear by it. Although has anyone ever seen a French woman have a hot flash? Maybe this is why.
---
When a hot flash takes it out of you, your own favorite trusty emulsion, serum or cream reinfuses you with hydration. Pump, pour or squirt some out into a travel bottle. You know what your skin likes, but if you need a new idea, we have a little summer crush on the vacation-y, water-fresh L'occitane Aqua Reotier Ultra Thirst Quenching Gel.
---
When a surge of inner heat makes your hair damp, you know what kind of a hair day that can turn out to be. We're putting little bottles of conditioning cream in our bags for just such an occasion. Victoria Tap, owner of Salon Riviera in Redondo Beach, CA recommends Bumble & Bumble's Don't Blow It Hair Styler, for gently smoothing wet strands (especially those crazy grays) and leaving it feeling soft and fresh without a blow dryer. If your hair is long, distribute it evenly through, divide hair into sections, and weigh down potential flyaways by twisting the sections and securing them with hair elastics. Available in Thick or Fine formulations. Go with the Thick if your gray hair is as coarse and mischievous as ours. 
---
Waterproof foundation is the way to go if you think you might have a hot flash during the day. It'll stay on through a mild-to-medium sweat, and at the same time, it protects you from summer's searing UV rays. We love Abella Tinted Moisturizer—it gives you a good layer of luminous, natural looking coverage without looking too flat or too shiny, in a range of shades that offers a good match for any skin tone. It's a great base for other makeup products. And at just  $1.50 each, the travel size tubes are perfect for tucking into your bag.
---
Most hot flashes won't require a full face do-over if you spritz with setting spray. We're liking Coola Makeup Setting Sunscreen this summer, for its budge-free security, comfortable feel, SPF30 protection and organic formula.
---
 This beautiful little electronic gadget is engineered to provide instant cooling relief when you hold it against your neck, which is apparently your body's main area for sensing and regulating temperature. Keep it by your bed at night and bring it to work with you during the day. This thing looks so much like a computer mouse, you can leave it out on your desk while it charges and no millennial colleague will ever be the wiser.
---
According to researchers in Iran, inhaling the fragrance of lavender for 20 minutes a day reduces the incidence of hot flashes1. It's also just a really nice thing to smell. We like it in a rollerball, because it's easy to carry and hard to spill.
1. Kazemzadeh, R, Nikiou, R and Norouzi, H, Effect of lavender aromatherapy on menopause hot flushing: a crossover randomized clinical trial.  Sept., 2016  Epub July 4 2016.