Discover
The safe,
non-hormonal

menopause symptom relief that women want.†*
Equelle's multi-symptom relief supplement is backed by decades of research that you & your patients can trust.1-3
Trust & Safety
Backed by decades of research.1-3
No modification

to breast density

No changes

in sex or thyroid hormone concentrations

No negative effects

to endometrial health identified

What is in Equelle?
Powered by S-equol.
Beyond a soy isoflavone.
Harvested from soy germ, S-equol is a targeted isoflavone metabolite with decades of safety and efficacy research behind it.

S-equol is naturally produced by
the human gut when daidzein, a
soy isoflavone, is metabolized

Some women naturally
produce S-equol through soy
consumption4

The only supplement that uses
S-equol to provide symptom
relief during menopause

Mechanism of Action
S-equol has unique binding properties.5
S-equol is structurally similar to estrogen allowing it to mimic some estrogenic effects for targeted relief.
S-equol preferentially binds to ER-β. Unlike ER-α, ER-β is rarely expressed in:
Mammary glands
Ovarian theca cells
Uterus
From our community
Real reviews from real women.
Healthcare professionals trust Equelle to support their patients' menopause symptoms.
"Because of Equelle, I have no hot flashes or mood swings."
Hiroe
Age 56
"It's been a lifesaver for hot flashes and helps me sleep better as well."
Ela
Age 57
"Reduces severity and duration of my nighttime hot flashes."
Kathy
Age 65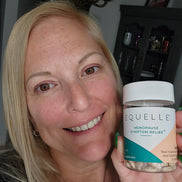 "Without Equelle I don't know how I would be handling this process in a woman's life. I'm so happy I found it!"
Jennifer
Age 50
Medical FAQs
Each tablet of Equelle contains 5mg of S-Equol and 120mg of Calcium.

It is recommended to take 10mg of Equelle daily, with or without food

No! Equelle is non-prescription, non-hormonal support for multi symptom menopause relief.

In clinical trials, Equelle provided menopause symptom relief as early as 1 month, with optimal results in 2-3 months.6-9

Equelle is available on subscription for $40/month or $50/month for a one-time purchase. Let us know if you would like samples and/or coupons for your patients at healthcare@equelle.com.

Equelle is exclusively available through our website. Please encourage them to visit www.equelle.com to learn more and buy Equelle today!
Ready to get started?
Request
samples.
Please fill out the form below to request Equelle welcome materials and/or receive the latest information on Equelle.
Have a question?
We're happy to help.
You can email us at healthcare@equelle.com.