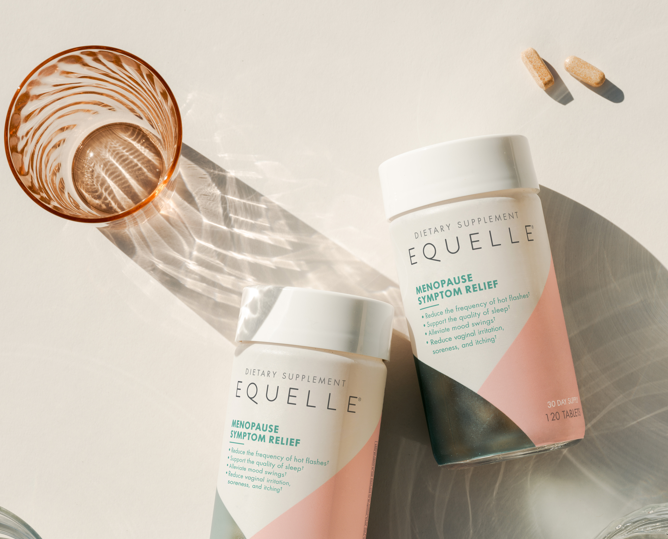 Black Cohosh vs. S-Equol for Menopause Relief
BLACK COHOSH VS. S-EQUOL FOR MENOPAUSE RELIEF
Whether it's a fan, an ice-cold glass of water, or a bag of frozen peas, in the heat of a hot flash, you'll reach for nearly anything to cool off. Holistic remedies for hot flashes during menopause are popular and some, like black cohosh, have been used for generations. But before you grab a handful of herbal supplements, learn a little more about their ingredients, find out whether or not their dosing is standardized, and research what kind of results you can expect.
BLACK COHOSH: A BRIEF HISTORY
So what is black cohosh used for? The use of black cohosh as a natural remedy has a rich history or—in the case of women's health—her-story.

Native to eastern North America, black cohosh root was used by Native Americans for a variety of ailments including fever, cough, pneumonia, musculoskeletal pain, sluggishness, menstrual irregularities, and even as an insect repellent.1 Taking a cue from the native people, European settlers began using black cohosh as a support tonic for many female-related reproductive ailments.
BLACK COHOSH FOR HOT FLASHES
Today, women commonly reach for black cohosh to naturally relieve menopausal symptoms like hot flashes. And with its time-honored reputation, modern researchers have taken to studying black cohosh to find out just how effective it truly is for menopausal symptoms and hot flashes in particular. Unfortunately, these recent studies have failed to show that the black cohosh herb used alone or as a part of a multi-botanical supplement provides reliable relief for menopausal hot flashes.2 Most herbal supplements do not have a standardized dosing amount, which might be a reason that black cohosh has not performed well in research studies. Several studies have documented different levels of the active ingredients in herbal products.3
THE WHOLE STORY ON BLACK COHOSH SUPPLEMENTS
Herbal supplements generally come in the form of either extracts or dried, whole herbs—as is the case for most black cohosh supplements sold. From there they are bottled as either an isolated herb/herbal extract or as an herbal blend.

Although the idea of a whole-herb supplement like black cohosh may feel like the unadulterated, natural solution you're looking for, be aware that whole herbs are not standardized. This means that from bottle to bottle and even capsule to capsule, you are not guaranteed to receive the same, or standardized, amount of the herb and its possibly beneficial components.

So why do the quality, potency, and contents of herbal supplements vary so drastically? Environmental factors, soil conditions, age of the plant, time of year harvested, and parts of the plant used can all contribute to variation in herbal supplements. In addition, this lack of standardization among herbal supplements can lead to even more surprises in what's in your bottle. In fact, some commercial black cohosh products have even been found to contain the wrong herb or mixtures of black cohosh and other herbs that are not listed on the label.1
EQUELLE AND STANDARDIZED DOSING
EQUELLE contains naturally-derived, plant-based S-equol to help relieve menopause symptoms†.  Unlike black cohosh and other herbal supplements, each and every dose of EQUELLE contains a standardized amount of S-equol—its active ingredient. S-equol, which was naturally discovered at work in a small percentage of women, shares a similar shape to estrogen and mimics some of its actions, helping to alleviate menopause symptoms associated with decreased estrogen. †

EQUELLE uses a proprietary process that recreates how S-equol is naturally produced in the body. This process ensures that each tablet of EQUELLE has a standardized amount of S-equol without the use of chemical or physical extraction.

With standardized dosing, unlike black cohosh herbal supplements, EQUELLE is able to ensure it performs consistently with every single dose. As a result, EQUELLE has been clinically shown to help reduce the frequency of hot flashes, support the quality of sleep, alleviate mood swings, and reduce vaginal irritation, soreness, and itching†§ associated with menopause. †  92% of patients were satisfied with EQUELLE after a 12-week trial and with a 60-day money-back guarantee, you can try it risk-free. CLICK HERE for more details


Resources
1National Center for Complementary and Integrative Health (NCCIH). Black Cohosh. Version current 26 November 2016. Internet: https://nccih.nih.gov/health/blackcohosh/ataglance.htm (accessed 30 November 2018).
2Newton KM, Reed SD, LaCroix AZ, Grothaus LC, Ehrlich K, Guiltinan J. Treatment of Vasomotor Symptoms of Menopause With Black Cohosh, Multibotanicals, Soy, Hormone Thrapy, or Placebo: A Randomized Trial. Ann Intern Med.2006;145:869–879. doi: 10.7326/0003-4819-145-12-2000612190-00003.
3Bent S. Herbal Medicine in the United States: Review of Efficacy, Safety, and Regulation: Grand Rounds at University of California, San Francisco Medical Center. J Gen Intern Med. 2008;23:854–859. Doi: 10.1007/s11606–008–0632–y.