What Is Menopause?
Menopause is technically one day of a woman's life. Women may experience early menopause symptoms, but the day she hits one full year without a menstrual period is the day she reaches menopause. After that, she is in post-menopause. However, "menopause," as it is commonly referred to, is the natural process a woman's body undergoes as her ovaries gradually produce less estrogen and eventually stop releasing eggs.
The menopause transition is composed of three different stages:
Stage 1 Perimenopause
ESTROGEN PRODUCTION FLUCTUATES
The first stage of menopause can last anywhere from one to seven years. Early menopause symptoms may show earlier, but most women begin seeing signs of perimenopause in their 40s; it's not uncommon for women to see signs of early menopause in their 30s as well. When a woman experiences early Menopause symptoms in her 30's she could be starting premature Menopause.
During perimenopause, estrogen production fluctuates and the first signs of menopause begin to appear. With the disruption of hormone levels in this menopausal transition, your menopause symptoms could include:
Hot flashes
Irregular periods
Sleep disturbances
Night sweats
Mood swings
Vaginal dryness
Stage 2 Menopause
12 CONSECUTIVE MONTHS WITHOUT A PERIOD
Once your body has gone a full 12 months without a menstrual cycle, you've reached menopause. During this time of hormonal change and lack of a menstrual cycle, a woman's ovaries stop releasing eggs and estrogen levels remain low, leading to a wide range of menopausal symptoms that could include:
Aches & pains
Weight gain
Mood swings
Stage 3 Postmenopause
ESTROGEN PRODUCTION LEVELS OUT
During the years after natural menopause, the average menopausal woman will see a reduction in her hot flashes, mood swings, and sleep disturbances. Signs of post-menopausal health risks can be tough to spot, but because the body's estrogen levels remain low, there are several new health conditions women in post-menopause need to be aware of, including:
Increased risk of heart disease
Increased risk of osteoporosis
Common Menopause Symptoms
Learn More About What You May Be Experiencing
Hot Flashes & Night Sweats
Decreased estrogen production can make the brain think the body is hot. It then triggers it to cool off by dilating blood vessels and sweating
Muscle & Joint Pain
Loss of estrogen during menopause can increase inflammation in the body and cause muscle and joint aches
Weight Gain
Menopause and weight gain seem to go hand in hand for many. Decreased estrogen can cause weight gain around the abdomen, hips, and thighs
Mood Swings
Menopause can feel like an emotional roller coaster as your body's hormone levels adjust. Irritability, anxiety, sadness, and fatigue are all common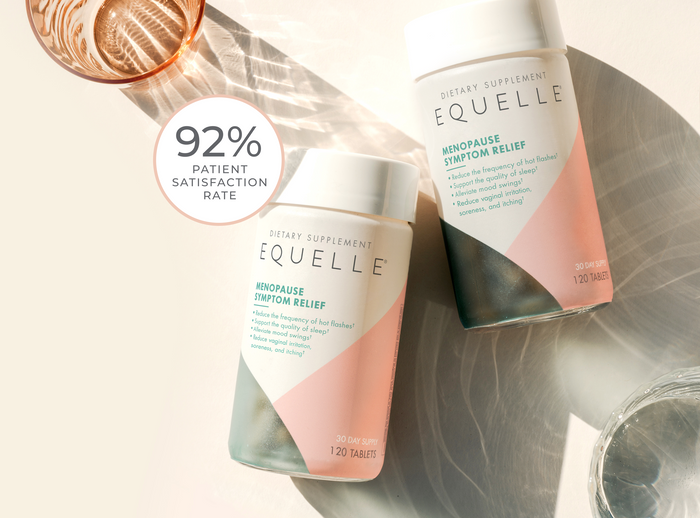 Where's the Relief?
Powered by Nature. Proven By Science.
EQUELLE menopause supplements work in harmony with your body and helps to:
Reduce frequency of hot flashes†
Support quality of sleep†
Alleviate mood swings†
Reduce vaginal irritation, soreness, and itching associated with menopause†§